Agri-Enterpreneurship Development of SC Communities Under SCSDF
The programme was organised by Agricultural Marketing Department, Telangana State in collaboration with Participatory Rural Development Initiatives Society (PRDIS). Around 60 selected participants were trained for 40 days to become young entrepreneurs from SC communities in the areas of agriculture and allied sector with emphasis on agricultural marketing.
Mrs. G. Lakshmi Bai, Director, Agricultural Marketing, Government of Telangana has inaugurated the training programme on 21st Feb 2019. Mrs. G. Lakshmi Bai, Director, Agricultural Marketing, Prof. S.V.Reddy, President & Executive Director, PRDIS, Dr. M.N.Reddy, Former Director, MANAGE, and Nodal Officer of the programme, Dr. M. Suryamani, Former Director, EEI and Training Programme Coordinator. Mr. Yellaiah, Joint Director, Agricultural Marketing, Mr. Y.Upender Reddy, former CEO, Mahaboobnagar and Consultant, PRDIS and Mr. Praveen, Database Administrator, Agril. Marketing Department and other PRDIS staff also present on the occasion.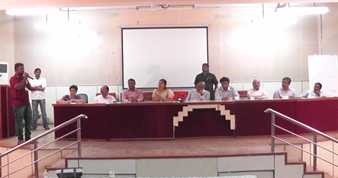 The training programme was completed as per the training module, important sessions were organised on finance management, marketing management besides exposure visits to Centre of Excellence-Hi-tech Horticulture, Cold Storage Unit Mango fruit ripening centre, trade development activities at green leaf organization, Cold press Groundnut oil and food processing unit, at Incubation and start-up ventures in Agri-business NAARM & MANAGE, RTP at NIRD, Millet processing at Indian Institute of Millet Research (IIMR) and Poultry and Dairy farm to commercial practicing farmers etc.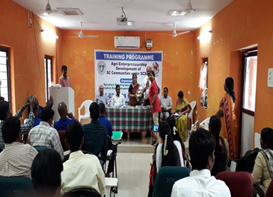 The Valedictory function was organised on 5th April 2019, at training center TS CAB – CTI Rajendranagar, Hyderabad. Dr. M.N. Reddy, Nodal Officer of the training programme welcomed the guests and the participants Dr. M. Suryamani, Coordinator presented a report on the training programme. Later, trainee participants expressed that the programme was very much useful to them and they equipped many entrepreneurship skills and transformed a lot in their behaviour and thinking. They expressed their gratitude to Mr.G. Lakshmi Bai, Director, Agril Marketing Department for giving them and opportunity and Prof. S.V.Reddy, President and Executive Director, PRDIS for providing very good training.

Mrs. G.Lakshmi Bai, Director, Agricultural Marketing distributed the certificates and reading materials to the participants. The programme conclude on 6th April 2019 by submission of project reports by all the participants.